How Financial Advisors Can Shift Their Prospecting Strategy Online in Uncertain Times
With everything going digital due to COVID-19, now is the time to reevaluate the way you can find and connect with your prospective clients. Traditionally, advisors have turned to more traditional means of marketing such as in-person seminars, dinners, and lunches, etc. But now that those can no longer happen, its time to make some changes and think outside of the box. Just because you can't meet prospective clients in person, that does not mean you should stay disconnected. In fact, with this economic downturn, people need you more than ever before. It may seem stressful to successfully adapt to everything that's going on, but changing your prospecting strategy to online will greatly help your business during this time. Below we will outline 4 ways you can make this shift and get that prospects list growing.
1. Get Social
Being active on social media was really important before COVID-19, but now, it is absolutely necessary. Your prospects are online, therefore you need to be online too. LinkedIn is a great platform to start with. By searching for professional affiliations, you can connect with many new prospects. To make the most of your social media presence, think about the niche you serve- is it doctors at a certain area hospital? Is it small business owners in a certain city? Once you've thought about your niche, search for that specific affiliation and grow your network that way.
Besides just connecting with prospective clients, you should also be interacting with them. A great way to do this is by being active in LinkedIn groups. These groups provide a great opportunity to jump in on conversations, add your value, and build relationships with people. You can share an article you recently posted or if you're trying to reach doctors, for example, you can post a video related to how doctors at that particular hospital can improve their financial situation. The more specific of a group you can find, the better. Similar to Linkedln groups, Facebook groups operate in the same way, offering another great platform for prospecting.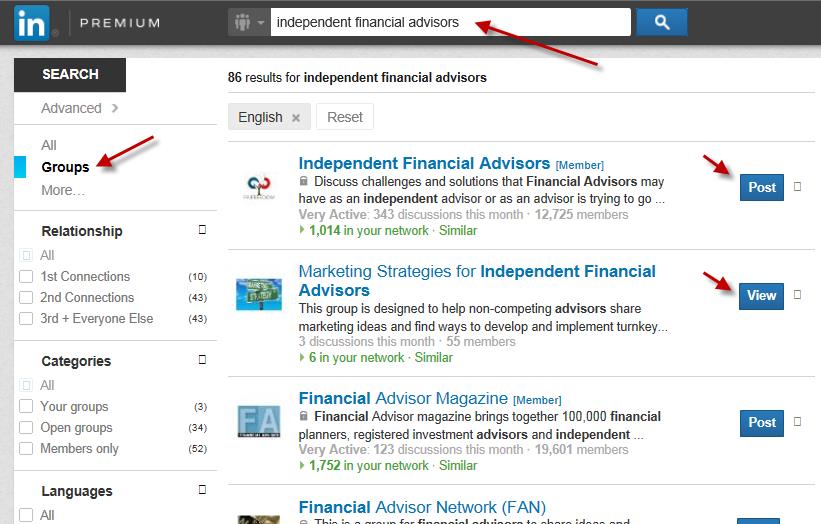 Your goal should be to post at least once every day. Whether you're on Linkedln, Twitter, Facebook, and/or Instagram, you need to continuously be active and share helpful information. You can post recent news updates, your own content, third-party content, etc. Especially right now, there's so much news and information being shared, so in order to stand out, consider posting visual content like charts, graphs, and videos in order to get more engagement. Below is a global survey conducted by Statista in March 2020 revealing how the coronavirus has had a direct impact on in-home media consumption around the world. As you can see, social media consumption has increased by 44% worldwide.
2. Add Content To And Update Your Website
Your website is a very important asset right now when it comes to finding and connecting with prospective clients. Everyone is online right now, so the chances of someone landing on your website is very high. Therefore, a key step is to update your website with new hours of operation and/or contact information. You definitely aren't going to get new prospects if they can't even get in touch with you. Since you and your employees are working from home, your business operations may have changed, and communicating this information on your website is crucial. This information should be easy to find in order to provide the best user experience possible. We all know those websites where it's hard to find who to contact and how to contact them, so you have to make sure you're not one of them.
When it comes to adding content to your website, right now is the time to be adding COVID-19 resources to provide support to your viewers. This is a time filled with huge uncertainty, and people just don't know what to do. A good idea is to add a call out right on your homepage that links to new contact information, letter/blog posts updating clients, a COVID-19 special resources page, etc. You want to show your clients and prospects that you are aware of the situation and you're here to help them. This way, you will be seen as an expert and you will gain trust. In the example below from Sequoia Wealth Advisors, you can see that they added a link to their COVID-19 response page right on the homepage of their website. 
3. Send Weekly Emails To Prospects
Nurturing prospects is a critical part of any prospecting strategy and one of the best ways to do so is through email marketing. As mentioned above, there's a lot of news and information out there right now amidst this pandemic. To build relationships with your prospects, your goal should be to get your prospects to look to you for updated information rather than other news sources. Therefore, you should send weekly emails containing articles, videos, blogs, etc that reflect any changes in the current environment. Apart from this data-heavy, objective content, you should send emails with key tips and simple advice to help your prospects get through these uncertain times. Be empathetic, and show your prospects that you're here for them.
You can get content from Lead Pilot's content library and/or create the content yourself. The thing is, if you're not reaching out to your prospects, there's a good chance that other advisors are. People want to be well-informed, so if other advisors are offering better, more relevant information, people will steer towards them. In addition, at the end of your emails, you want to be sure that you're including a CTA. This CTA should be specific to how people can get starting working with you or how they can connect with you if they are interested. 
4. Hold Webinars
Webinars are becoming the go-to marketing tactic during this pandemic. Webinars offer a digital solution that allows for a personalized and interactive experience with a mass of people at once. Though you can't meet people in person right now, you can meet them online. The first step in crafting an effective webinar is picking the right topic. There are so many questions that people have right now, so luckily there are a myriad of topics you can choose from. In fact, you can even go on Google Trends and look at some of the trending topics and the most common searches right now for webinar topic ideas. Check out our blog post on What Are Investors Searching For Right Now Amid The Coronavirus Pandemic? Make sure to promote your webinar on your social media, on your website, and in your email campaigns.
5. Automation
None of the above would be possible without some sort of automation. Whether its social media scheduling, email campaigns, sending emails to your webinar registrants before and after, scheduling blogs, etc., automation software will make the process a whole lot easier. Ultimately, each of the digital marketing strategies above requires different processes. Before deciding which of the areas above to spend more of your time in, the key is to first understand your capabilities and who you're trying to reach. Automation is the secret backdoor in all of the above techniques, helping you in building relationships with your prospects and creating value for them.
Struggling With What Content to Share on Social Media or via Email?
We are offering access to our content for advisors to use via Lead Pilot for 7-days completely free (even on our month to month plans).
---
About The Author
Namisha Goel
Namisha is a Content Creator at Twenty Over Ten, passionate about fostering community growth. A Bollywood enthusiast, she loves to travel and hopes to experience all seven wonders of the world.
"In a matter of minutes, I can create relevant and informative content and publish it to my social media channels. Thanks Lead Pilot!"
Elizabeth Luna - Aria Wealth Management
Schedule A Demo