How Financial Advisors Can Generate More Leads From Social Media
It should be pretty clear by now that social media marketing is really important for your advisory business. As of January 2020, there are 3.75 billion social media users, and this number is only going to get bigger. Social media is here to stay, so your social media marketing strategy needs to be top-notch. Here are 5 key tips on how you can generate more leads from your social media presence.
Tip #1: Treat Your Social Media Page Like Your Website
Keeping your social media pages fresh and updated is key to generating leads. You should consistently monitor, adjust, and add to your social media pages like you would to your website. For example, if your contact information or logo changes, make sure to reflect that change on your social pages- you definitely won't get any leads if people are contacting the wrong email address. In the example below from Harvest Financial Advisors, they are keeping their followers updated and letting them know they will be relocating.
When it comes to keeping your social pages fresh, it's important to continuously post content. No matter what platform you are using, you need to be posting at least once a day. If you want more details about this, check out How Often Should Businesses Post On Social Media? Posting once a day is just the minimum, truth is you want to be as active as possible so that you can reach your audience. There is no real benefit in creating a Facebook or Twitter account for your advisory business and then not posting anything on it or posting once a month. Your posts should include both your own content as well as third-party content. Conclusively, the more relevant, active, and consistent your social media page is, the more leads you are likely to get.
Tip #2: Engage With Others
Not only is it important for you to post, but it is equally as important to engage with other people's posts. Take some time each day to like, comment, share, and/or retweet other relevant posts. The key here is relevant because blindly engaging with random posts won't generate quality leads- when you engage with other brands and friends, those brands and friends' followers will see your engagement, and this expands your reach. In this way, you can grow your online community with just a click of a button. Not only will engaging with others make you more visible, but it will also help you build connections. The more you engage with others, the more they will engage in your posts, fostering a sense of support and community.
Tip #3: Use Video
Video is one of the best ways to get peoples' attention, serving as a great way to generate leads from social media. In fact, according to research conducted by Twitter, tweets with video attracted 10x more engagements than tweets without video. The statistics are similar for other social platforms as well, highlighting the large impact that video has on people. Contrary to what you may think, creating videos is fairly simple. All you need is a phone and a topic. In fact, check out our blog on how you can engage in video marketing with just 3 easy steps. It's always a great idea to create a video on a topic that you already have a blog post about. If you do that, you can also link the blog in your social post as well.
If you still feel a little uneasy about creating videos yourself, Lead Pilot offers a continuously updated library of videos for you to use in your email campaigns, social media posts, website, landing pages, etc. The videos cover a wide range of topics, so sit back, relax, and let us do the work for you.
Tip #4: Share Gated Content
Gated content is content that can only be accessed when the viewer fills out a form asking for certain information like their name, email address, title, etc. If you have valuable content such as whitepapers, e-books, infographics, webinars, etc. you can use them as your gated content because people will be willing to give up their information in exchange for this content. The more valuable your content is, the higher chance there is that people will fill out the form. The idea here is to share links to your gated content on your social media pages. The more people who see the link, the more leads you are likely to get. Below is a flowchart created by HubSpot, outlining whether or not you should gate a particular piece of content.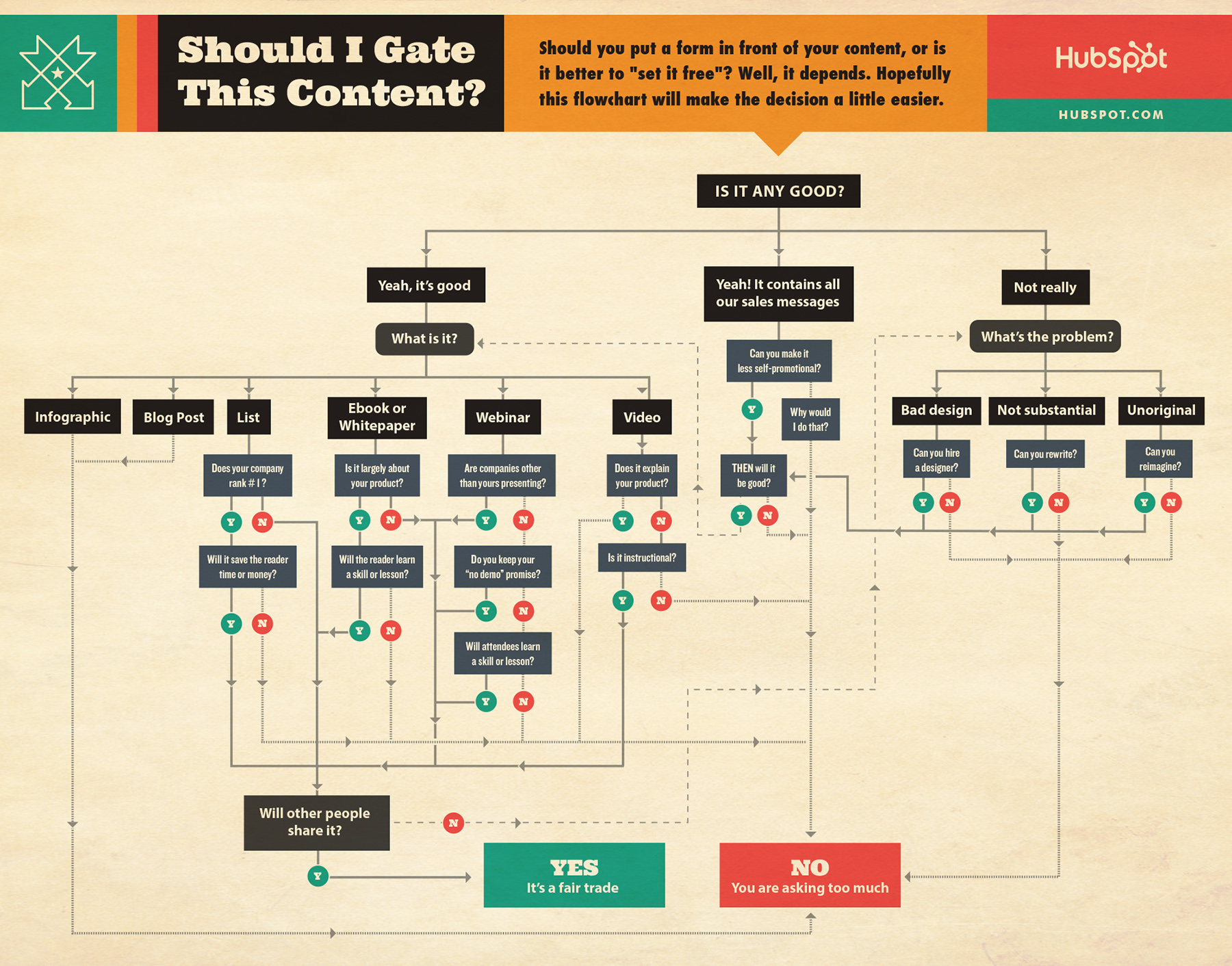 Tip #5: Measure and Refine
When it comes to using social media to generate leads, you want to focus your energy on the platforms that are performing the best. Use Google Analytics to determine which social media site is generating the most leads for your business. If you see for example that Facebook is significantly outperforming the other platforms, focus your lead gen efforts on that. On the other hand, if you see that Twitter is lagging behind, figure out why and refine your strategy. Lead Pilot offers a comprehensive dashboard that allows you to see how many leads are being generated from your social platforms.
Struggling With What Content to Share on Social Media or via Email?
We are offering access to our content for advisors to use via Lead Pilot for 7-days completely free (even on our month to month plans).
---
About The Author
Namisha Goel
Namisha is a Content Creator at Twenty Over Ten, passionate about fostering community growth. A Bollywood enthusiast, she loves to travel and hopes to experience all seven wonders of the world
"In a matter of minutes, I can create relevant and informative content and publish it to my social media channels. Thanks Lead Pilot!"
Elizabeth Luna - Aria Wealth Management
Schedule A Demo