Creating A Solid Social Media Strategy: A Guidebook For Financial Advisors
It should be no surprise that we are living in a digital era. As of January 2020, there are 3.8 billion social media users worldwide. With this being said, social media is a crucial tool for your advisory business. It's important that your strategy is spot on because social media can bring huge growth for your firm. If you're unsure of where to start and/or how to create a solid social media strategy, here are 6-steps you can follow.
1. Determine Your Goal
When creating any sort of strategy, the first thing you need to do is set goals. Without a goal, your strategy won't have any focus or direction. When it comes to social media, your goals can be anything from gaining new followers each week, informing your followers, increasing sales, generating leads, etc. You can, of course, pick more than one goal but make sure you don't make too many that it becomes overwhelming. A good strategy for goal setting is writing down SMART goals – goals that are specific, measurable, attainable, relevant, and time-bound. For example, your goal shouldn't be "I want more followers on Facebook." Instead, say "I want 5 new followers on Facebook every week for the next month."
You are 42 percent more likely to achieve your goals if you write them down
2. Decide What Content You Want To Share
Now that you've decided on your goals, it's time to decide what content you should share. Should you post fun facts about your employees? Your own blog posts and videos? Other people's blog posts and videos? Promotional materials? The answer is all of the above. However, there is a delicate ratio you should maintain in order to get the most engagement. In marketing, this is known as the 5:3:2 rule. This rule is all about your social sharing and this is what it says:
If you, for example, want to share 10 posts:
5 should be content from other sources that are relevant to your audience. This can be retirement tips, investment infographics, interactive quizzes, etc. from third-party sources.
3 should be content you've created that's relevant to your audience. This is where your own blog posts, promotional items, and videos come into play.
2 should be personal, fun content that humanizes your brand to your audience. This content may include fun facts about your employees, a behind-the-scenes view of your firm, etc.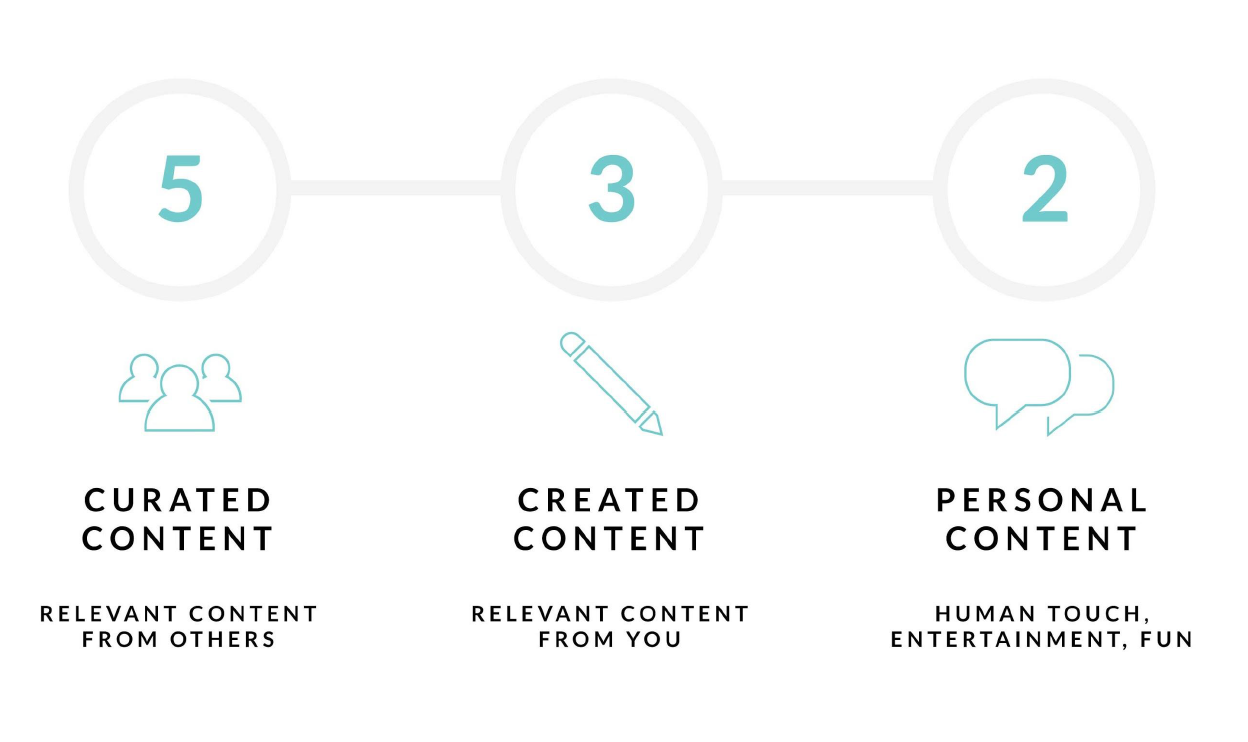 3. Pick Which Platforms To Be On
There are so many social media platforms today, and it seems like new ones are arising every day. Each channel has different demographics and is fit for different purposes. Therefore, it's important that you thoroughly research each platform to see where your audience resides. Below are some general takeaways to get you started.
Facebook: People over the age of 50 make up the smallest percentage of users, but Facebook is the most popular social network for these seniors. Therefore, if your advisory firm targets pre-retirees and retirees, Facebook is the place to be.
Instagram: Instagram's demographics skew younger compared to the other platforms, proving to be a great site if you're trying to target millennials.
Linkedln: As you all are aware, LinkedIn is a professional platform where people primarily network. Therefore, if you're trying to target business owners or young professionals, LinkedIn is the best social media platform.
4. Balance Your Time Between Posting And Engaging
Not only is it important to consistently post, but it is just as important to engage with other peoples' posts. If you spend all your time doing one or the other, you will be less likely to see results. Think about your firm and how much time you've allotted for social media marketing in order to determine how you want to divide your time between these two tasks.
If you see something on your feed that you like, comment, share, and/or like it! Engaging with other posts is a great way to start a relationship and build your connections. It also a good idea to have people higher up in your firm to do the engagement. As you can see in the graphic below, people are more connected to brands whose CEOs are active on social media.
5. Establish A Brand Voice
Are you going to use emojis in your posts? What about words like "gonna?" This may seem trivial, but it's actually a really important marketing decision. Your brand voice and style depends on both your brand and your audience. For example, If your brand is more informal, but you are targeting CEOs, it's likely that your brand voice is going to be on the formal side. You need to find a good middle point that fits both your brand and your target audience. One good strategy you can use when establishing your brand voice is creating a chart like the one below:
6. Create Your Posts And Schedule
Once you've determined your goals, figured out what to share and where to share, established how much time you want to allocate between different social media tasks, and created your brand voice, it's time to create your posts. One of the best ways to organize all your posts is to create a social media calendar like the one below. Creating a calendar makes scheduling easier and brings all your posts to the same place.
Once you've created a calendar, its time to schedule your posts. A life-savor is to use a scheduling tool so that you don't have to manually post everything. Our Lead Pilot platform offers a convenient and easy-to-use scheduler. As you can see in the picture below, when you have your post ready to go, you can click "schedule for later" and pick what day and time you want it to be shared.
Struggling With What Content to Share on Social Media or via Email?
We are offering access to our content for advisors to use via Lead Pilot for 7-days completely free (even on our month to month plans).
---
About The Author
Namisha Goel
Namisha is a Content Creator at Twenty Over Ten, passionate about fostering community growth. A Bollywood enthusiast, she loves to travel and hopes to experience all seven wonders of the world
"In a matter of minutes, I can create relevant and informative content and publish it to my social media channels. Thanks Lead Pilot!"
Elizabeth Luna - Aria Wealth Management
Schedule A Demo