8 Ways Financial Advisors Can Get More Shares on Social Media
Similar to comments and likes, shares are one of the ways to measure the success of a post on social media. Like these other metrics, they let the platform's algorithm know the viewer found the post interesting.
Though, unlike other metrics, shares offer a few unique advantages that likes and comments do not provide. In this blog post, we'll look at some of the advantages of shareable content, and how financial advisors can create more.
The Benefits of Social Sharing:
Think of social media as a conversation.
Likes are a confirmation, they're a head-nod, or more appropriately, a thumbs up – you're telling the speaker (poster) that you agree with them and appreciate their post. Comments are interaction. They show interest and add your voice to the conversation, whether you're in agreement with the poster or not. Shares are quotes. Similar to likes, they're an agreement, but so much so that you're willing to repeat the message.
This makes shares similar to testimonials. They're an independent voice that felt your content was important enough to make others aware of it. For a financial advisor, this reinforces authority on a subject and increases brand awareness. But it begs the question, why do users share content in the first place?
Why Do Social Media Users Share Content?
Social media users share content for 4 primary reasons:
To Inform. Posts with new information, trending topics or offer a warning that others believe are important enough to spread.
To Entertain. Posts that are relatable and make people laugh, smile or feel inspired.
To Identify. Posts on specific subjects that support the reader's values.
To Promote. Posts that support important and philanthropic causes to provide them with more attention.
The most common category for financial advisors will likely be to inform. But don't be afraid to get creative and can find ways to leverage each. Here are a few ways to do just that.
8 Ways To Get More Shares on Social Media
1. Create Visual Content
This makes our number 1 spot because it's one of the best ways to get shares, but one of the easiest things to skip. Visual content (Images and Videos) receives more engagement and organic reach than standard text-based posts.
We've covered this before, but the benefits cannot be understated. Visual posts attract attention, save time and increase the rate at which information is processed. When creating content for social media, consider what you could show to users.
Could data be shown to visitors, instead of described? How could a video be created on this topic? What images relate to my post and draw the user's eye? When answering these questions, consider tools like YouTube, or Canva to help you create your videos and images quickly and easily.
Though advisors often use the big three (Facebook, Linkedin and Twitter), Instagram can't be ignored when discussing visual content. And among financial advisors, Thomas Kopelman does an excellent job of utilizing the platform. Visit Thomas's Instagram to see how a financial advisor can translate written content into a visual format to be used across any social channel:
2. Be Positive
According to CoSchedule, emotionally positive posts receive more shares than other types of content, with awe-inspiring posts receiving the highest percentage: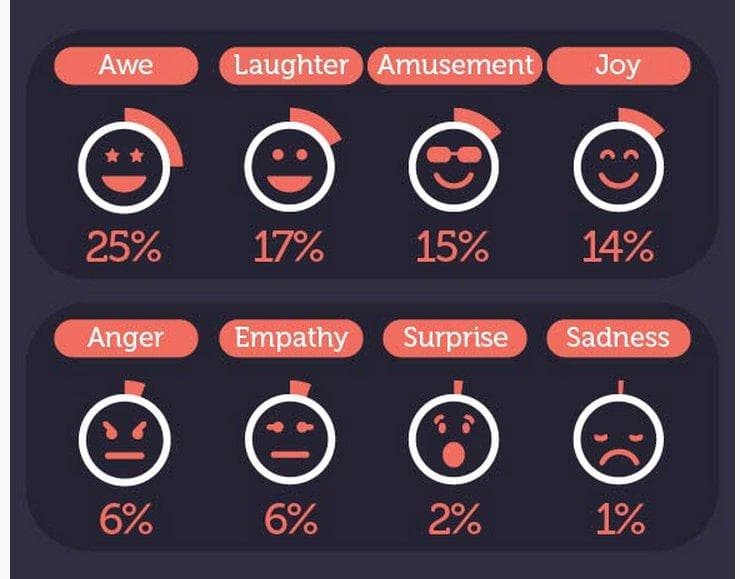 Of course, not every post can be positive, especially when dealing with financial challenges. But that doesn't mean this advantage can't still be leveraged. Instead, consider reframing the content and providing a solution. This way your post still acknowledges the issue but provides readers with something actionable to resolve it.
3. Provide Useful Information
Providing valuable information is a great way to garner more shares on social media. New information acquires attention because it acts as a resource to others and can help them make decisions.
But shares are not the only benefits. Information containing original research can double as an extra source of backlinks. After all, whenever someone is looking for information containing stats or data, they'll typically go to Google. And, if your article is the most popular on a topic, then there's a good chance that it could be linked by others.
For an example of an informative post, check out this one from Kaizerman & Associates. Not only does the post provide valuable information, but it does so without requiring you to click through to a separate link. Instead, it offers everything in a single image, making it more effective and easy to share.
4.  Add Social Sharing Buttons To Your Website
Making the process of sharing as quick and easy as possible can increase the chances of more shares. One way to do this is to include social sharing buttons directly on your website. Most sites will already offer social buttons in the footer. But to add extra emphasis, include them on your blog posts.
For example, Adrian Rowles uses social sharing buttons at the bottom of every single blog post to increase the chances of a visitor sharing a post:
5. Offer Something To Readers
This strategy can be incredibly effective for both comments and shares. With comments, this acts as a transaction. You ask the reader to comment on your post and you will provide your content (downloadable, ebook, etc.) in return. When it comes to shares though, this same strategy works just as well, but for a different reason. Instead of acting as a transaction, readers are inclined to share posts with an offer or resource because they know it could help others. Sharing your post thus acts as a form of promotion.
For example, Marlon T. Wesh promotes a podcast episode through this LinkedIn post. In turn, offering resources to a specific niche:
6. Share Posts From Others
Social media is designed to be just that, social. And like social interaction, reciprocity can go a long way. If you're not receiving many shares on your content, then consider sharing the content of others. This can increase the chances of these users sharing your content in return.
In this example from James Werner, CFP, we can see the chain reaction of resharing created by Michael Kitces's original post highlighting Samantha Russel's resources:
7. Post Content From Individual Accounts
Users often connect with people more than brands. So, consider establishing a face for your brand when seeking out shares. This could be as simple as sharing content from your personal page, or having team members share content. This can also open up opportunities to create more personal posts.
Your options can also adjust depending on the structure of your firm. For example, Mindy McCubbin, acts as the face of Truman Wealth Advisors, allowing a more personal approach to the firm's social media presence:
8. Crack a Joke
Don't forget, one of the reasons people share content is because it's entertaining! So don't be afraid to create relatable posts, tell a story, discuss a recent event or crack a joke.
For example, Jeff "The Buckinghammer" Levine, CPA/PFS, CFP® makes an incredibly relatable joke about Twitter in this post, garnering 7 retweets:
Wrapping Things Up
From useful info to entertainment, attracting shares is all about creating posts that catch the attention of other users. Doing so can help increase the other metrics that determine your social media performance and improve your overall brand exposure. So, the next time you're drafting your social posts, consider the examples on this list and ask yourself if others will find it interesting. If the answer is yes, there's a good chance that someone may want to share it with others!
Struggling With What Content to Share on Social Media or via Email?
We are offering access to our content for advisors to use via Lead Pilot for 7-days completely free (even on our month-to-month plans).
---
About The Author
Stuart Farst
Stuart is a Content Marketing Specialist at Twenty Over Ten and enjoys creating content that both entertains and educates. A Game Designer at heart, he can be found pursuing one of his many hobbies during his free time.
"In a matter of minutes, I can create relevant and informative content and publish it to my social media channels. Thanks Lead Pilot!"
Elizabeth Luna - Aria Wealth Management
Schedule A Demo